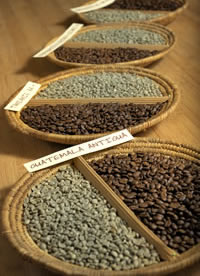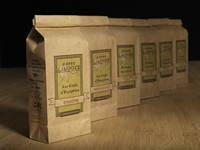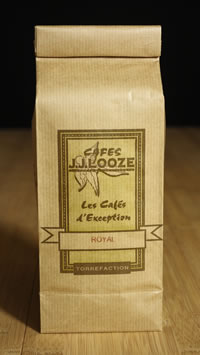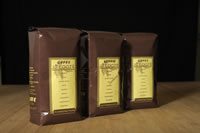 Coffee
We invite you to discover a non-exhaustive list and the taste characteristics of our "House Blends", a collection of great originals and choice blends, as well as our selection of 100% pure original "Choice Blends".
It is important to know that the Choice Blends are not available in sufficient quantity on the market to satisfy the entire global demand. A small company like ours can afford to offer these varieties on a regular basis given a lower tonnage than that offered by the large commercial brands. The needs of the latter as well as their requirement to provide standard blends are such that they have to look to more plentiful and less prestigious varieties.
Our range is available in packets of 250g, 500g or 1 kg; in grains or ground.
Our coffees are intended for the hospitality industry sector, for businesses, and also for sale in delicatessens, organic and other shops, as well as to individual customers.
The development of new exclusive personalised blends, as well as Private Label packaging incorporating your logo, is perfectly conceivable.
Our House Blends
Maya :
Mixing original, composed of Grands Crus Central and South America. Subtle fragrance, full taste, excellent body, acid and aromatic cup.
Thousand Hills:
Reminiscent of the years in Africa, this mixture is composed of the greatest coffee of the region of the Great Lakes. Mix all the finesse, marked acidity.
Three Continents:
Precise Assembly of 3 of the greatest harvested in the 3 continents producers of coffee, the entire row of the Ecuador in your cup! Mix fruity, full-bodied, a hint of acidity.
Dessert :
Classic blend soft and perfumed, neutral.
Moka :
Full-bodied and very fragrant,the ideal to finish a meal.
Royal :
Mix flavored, soft, balanced and half soft. Perfect to start a good day or to accompany your coffee time !
Regal :
Strong blend, lots of body.
Selection :
Mix soft, fragrant and mellow.
Special :
Café légèrement corsé.
Restaurant :
Mixture to taste at all hours of the day, composed of Arabica 100% original. Softness, taste, flavour to the "rendez-vous"; a top of range.
Expresso :
Mix the better qualities of the Arabica Central - America within the blend.. Full-bodied, acidulous and aromatic; Espresso par Excellence!
Fuego :
Blend espresso type Italian, very full-bodied, more pronounced roasting.
Decaffeinated :
Mixture of Santos Fancy and Central - America, half soft and quite fragrant. This variety of Arabica whose caffeine already is original less than that of Robusta, suffered a décaféinisation procedure. This technique will give you a cup of coffee with the taste and the aroma equalled complete coffees while ensuring a good night's sleep...
Our Grands Crus
New
Peru Organique Be Bio 02 Fairtrade Rain Forest : 17th world producer
Washed Arabica, good acidity, good body, Soft Cup, raw blue-green, beautiful bean. These Arabica can be higher than the very good Central America, classic from the point of view aspect and Cup.
Caffeine content: 1,30%
Republic Dominican Arabica Barahona : 25th world producer
Very beautiful and good coffee, sweet taste, with great acidity and aroma
Caffeine content: 1,37%
Rwanda Arabica Kigoma Mountain Coffee :26th world producer
Arabica produced in the land of the thousand hills, beautiful small beans, quite acidity.
Caffeine content: 1,35%
Santos Fancy (Brazil) : 1st world producer
Brazilian coffee, and also the name of the port of export of the important center of Sao Paulo coffee. This coffee is characterized by a sweet, mellow taste.
Caffeine content:  1,15%
Colombia Supremo : 2nd  world producer                                         
Coffee taste, "sweet", aromatic, lightweight body. Its production is very careful.
Caffeine content: 1,37%
Java (Indonesia) : 3th world producer      
Heavy and overly strong coffee for lovers of strong coffee.
Caffeine content: 1,20%
Guatemala Antigua : 6th world producer                  
This coffee grown on the shelf and volcanic ridges around Antigua, is characterized by complete, full-bodied taste, and acid and aromatic cup.
Caffeine content: 1,32%
Ethiopie Sidamo / Yrga head : 7th  world producer                            
Small to medium coffee bean, washed, scented, sensitive and remarkable, sweet flavour, step too acid and balanced, medium body.
Caffeine content: 1,5%
Mysore Plantation A (India) : 8th  world producer                          
Coffee neutral and soft; It is not widespread because of lower exports of the India to the common market.
Caffeine content: 0,93% à 1,12% 
Costa Rica Tarrazu : 9th  world producer                                         
One of the best coffees in the world to warm and sweet, perfume with a fairly complete and rich taste, slightly acidulated rather full-bodied and long in the mouth. The "Costa Rica" can be elevated to the rank of actual "grands crus".
Caffeine content: 1,22% à 1,45%  
Honduras High Grown : 13th  world producer                   
This coffee is very spread in recent years and is beginning to be assessed at its fair value; beautiful coffee and low acid Cup.
Caffeine content: 1,32%
Kenya AA : 18th  world producer                                     
This very fine coffee, full-bodied, with typical perfume, has a taste very acidic and fruity. The Kenya has developed the most sophisticated methods in the world with respect to the production, processing, and marketing for coffee.
Caffeine content: 1,36%
Papua New Guinea Sigri A : 19th world producer                  
This arabica characteristics are classified between the Kenya AA and Ethiopia washed. Arabica perfumed and acidic, balanced with body.
Caffeine content 1,30%
Maragogype (Nicaragua) :                      
Variety of Arabica large and broad beans, it is soft and very fine.
Caffeine content: 1,27%
Tanzania AA+ : 24th world producer                        
Almost as acid as the Kenya, good in acidity, taste has excellent fragrance, body.
Caffeine content: 1,42%
Blue Mountain (Jamaica) : 47th  world producer    
This exceptional coffee both by its rarity and richness in flavour, making its international reputation, is exclusively harvested in altitude, which gives it its qualities of creaminess. A must!
Caffeine content: 1,24%